---
---
---
---
Joel Kuennen
Articles // Curation // Interviews // Social Practice // Objects // Academics // Exhibitions // Public Talks
---
---
---
---
Hello, I'm Joel. I write about art and culture. I think about the socio-cultural implications of human activity. I curate work that critiques the now and gestures towards better futures. I make situations that use the agency of art and the promise of technology to create more equitable ways of being together. Contact me at joelkuennen(@)gmail.com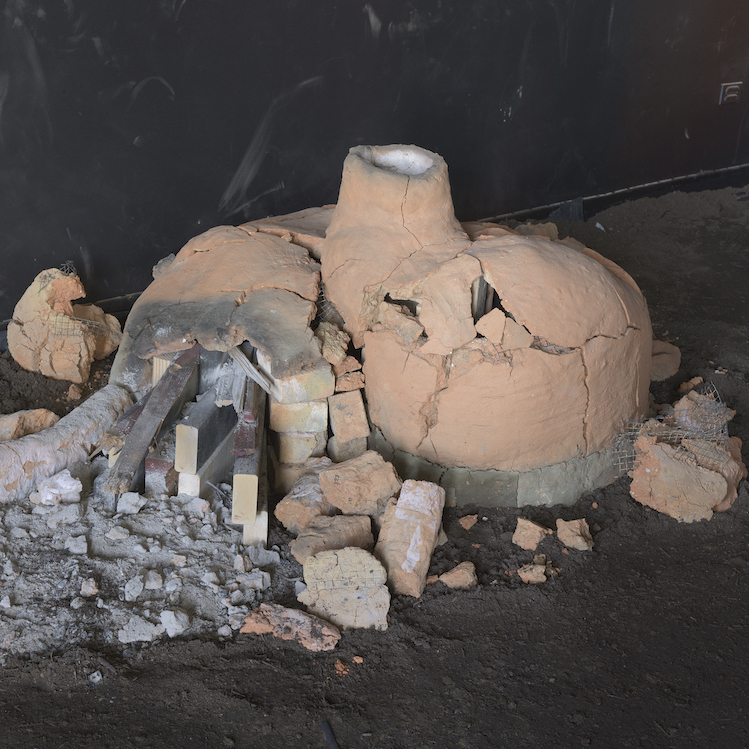 Kiln v.3: The Spiral Kiln, On view at Performance Space NY in the exhibition A Wild Ass Beyond: ApocalypseRN through December 17, 2018.
The third in a series of rudimentary earthen kilns I made during the Summer of 2018 in Detroit redesigns one of humanity's oldest technologies. The spiral form of this kiln not only increases efficiency in the wood-burning process through using radiant, recycled heat, its shape recalls Smithsonian conceptions of time and gestures at the kiln's ability to transform mud into rock, a process that would otherwise take millennia to accomplish. Read about the process in the zine made by Nora Khan, Sondra Perry, American Artist and Caitlin Cherry....
---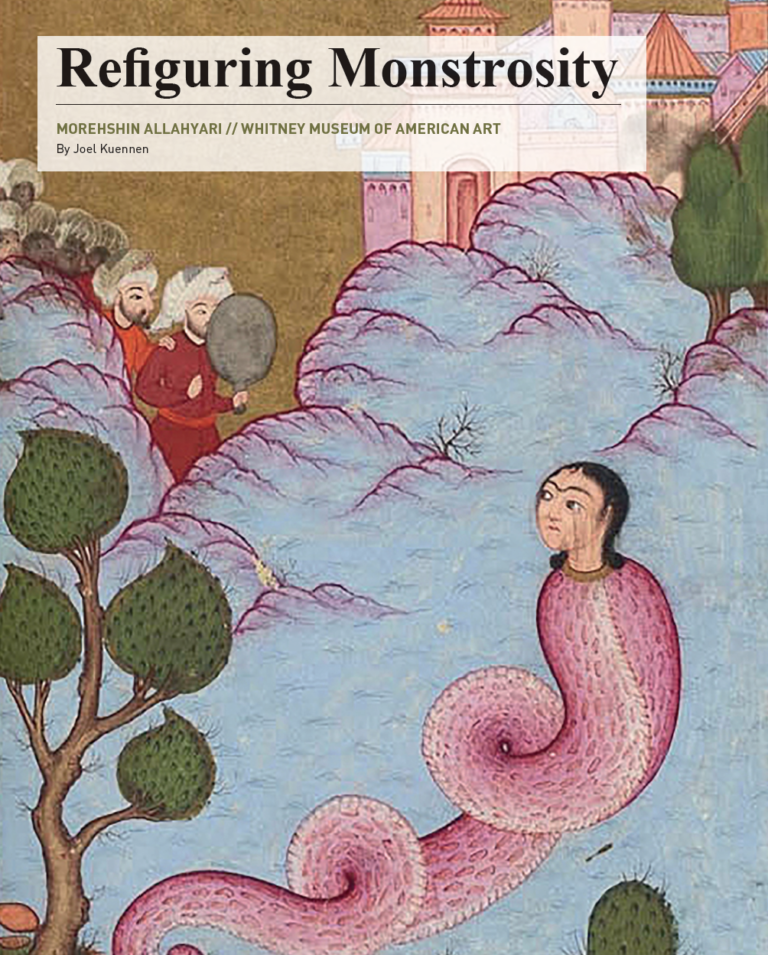 An interview with Morehshin Allahyari on her latest work, a hypertext fable hosted on the Whitney Museum of American Art's artport. ...
---
Catalogue essay on filmmaker Doireann O'Malley's three-part series Prototypes on the occasion of her exhibition at Dublin City Gallery The Hugh Lane, 6/22/2018 - 9/16/2018.
---
Tony Conrad (1940-2016) rebelled against film, against music, against time. When he lived in New York, he lived as frugally as possible so as to remove himself from the economic order. He bought chicken hearts for $0.12 per pound and lived in an apartment without heat or running water. ...
---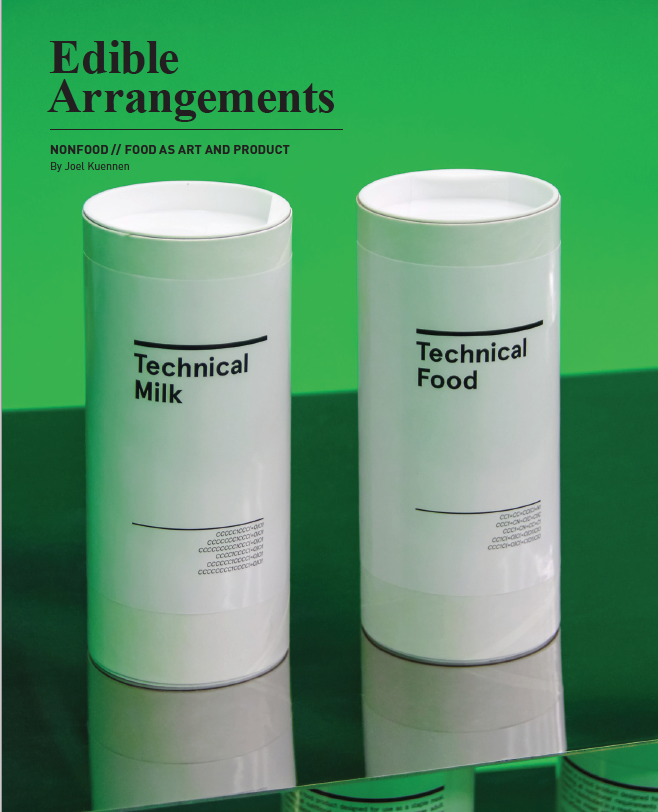 Food, in aesthetic discourse, has its own apex in the culinary arts. The culinary arts are defined by the processing of raw food stuffs into consumable portions, which are in some way better, according to specific cultural and aesthetic norms. ...
---
<!link to github>Process Park v.1 was a four week residency I founded. The first iteration was held at chaNorth artist residency in Pine Plains, NY during the month of April, 2018. Critic and writer, Nora Khan, and I co-directed this experimental residency within a residency. Our first group included Santina Amato, Ursula Endlicher, and Jules Litman-Cleper. The goal of the residency was to establish a rhythm of self-reflective critical engagement with our individual practices through reorienting ourselves in time and space.
More on Process Park
---
01/19/2018 - 05/15/2018

Curated by Joel Kuennen & Riccardo Zagorodnev

Strings explores the manner in which data increasingly determines our behavior, our interactions and our overall relationship to the Self. ...

<!content roll>
---
---
---
---
I've been working in media and cultural criticism since 2005. After college, I worked for a small alt weekly called The Second Supper (08/2005 - 08/2008) as Executive Editor and Art Director. While attending grad school at SAIC (2008-2010), I began writing for SAIC's FNews Magazine and was a contributing writer, designer and artist for Canon, our department's annual publication. In my final year, I began writing for ArtSlant (05/2010 - 05/2018). I held various positions there until I assumed the role of Chief Operations Officer in 2014, leaving in 2018. My writing currently focuses on art, tech, social justice and the transformations in self created at these intersections.

<!anchor tag #articles>

Time is a Box: Tony Conrad Retrospective

The Clemente Open Studios 2018 Marks a New Chapter for the Storied Cultural Center

Edible Arrangements: Nonfood // Food as Art and Product

The Marginal Labor Left for Humans: Brett Wallace's Amazing Industries

Distorted Personhood: Sabato Visconti's Dacalogue

Simon Birch's 14th Factory Mirrors the Decline of Globalization

Sterling Crispin: Begin at the End

Heather Dewey-Hagborg and Chelsea Manning Publish Comic in Last Push for Obama Clemency

Freedom Lost. Freedom Transformed.

Moving Past the Circular Logic of Terrorism

I Tell You What Freedom Is to Me: No Fear

Installation Can Be Felt Underfoot

Knock-Off Art and Artistic Production in Advanced Capitalism

Faith Holland's Cum "Paintings"

Kehinde Wiley: Empire of Vulnerability

Robin Kang: Playing with Machines

The Anatomy of Space, the Destiny of Time

Contesting Haussmann in Urban China

Globalization, Globally and Locally

Book Review: Sherry Turkle - Alone Together

The Joke is Irresistible, A Fickle Existence, and Materials of the City at The Sullivan Galleries
---
---
---
---
<!anchor tag #curation>

<!img for curatorial project>
01/19/2018 - 05/15/2018
Heather Dewey-Hagborg, Branger_Briz, Amanda Turner Pohan, Jennifer Chan, Shawné Michaelain Holloway
Curated by Joel Kuennen & Riccardo Zagorodnev
Exhibition Essay: Data as Trace, Data as Tag
Exhibition Catalogue: Strings: Data and the Self / Experience how big data has affected and altered our lives
Press:
Dive deep into data at new CMATO exhibit
INTO THE E-WILD | WiFi safari explores vulnerability, privacy of personal devices in Thousand Oaks
Journey through Media Art (Ukraine)
Strings: Data and the Self crystallizes the conversations surrounding self representation in the age of Big Data through the work of 5 artists who share a concern for the manner in which data increasingly determines our behavior, our interactions, and our overall relationship to the self. This exhibition approaches the implications of a life determined by data through three questions: How is data extracted? What can become of your data? How is emotional intelligence affected by data?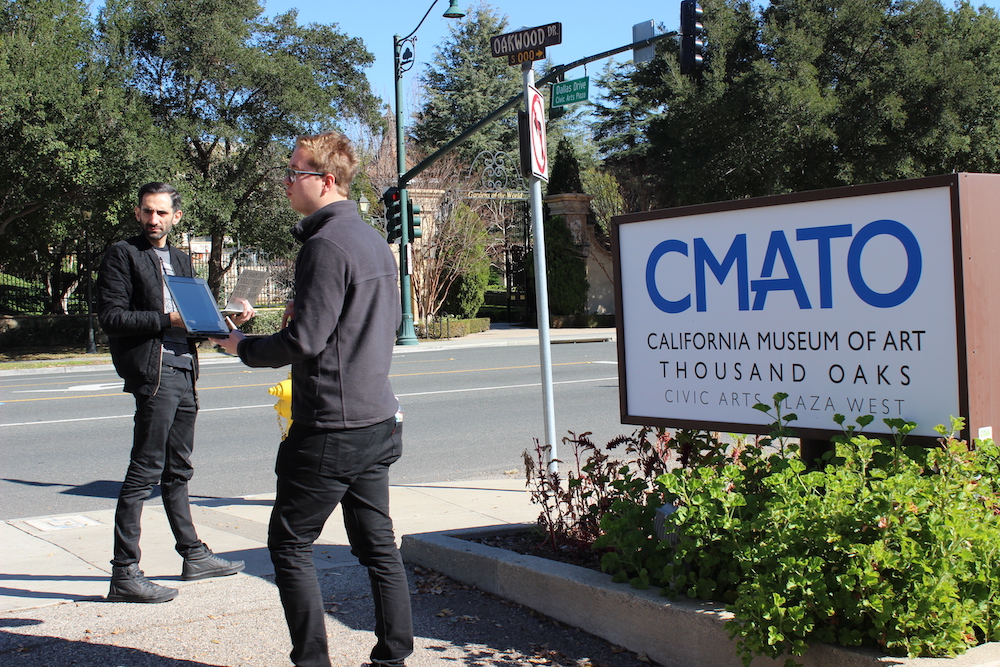 The work of Branger_Briz (Probe Kit, 2015) exposes the points at which we become data to be exported and extrapolated by companies, organizations and governments, ultimately presenting the viewer with their own lack of choice when participating in a digital world. They ran a workhop at the beginning of the exhibition and led participants on a WiFi Data Safari through the city of Thousand Oaks.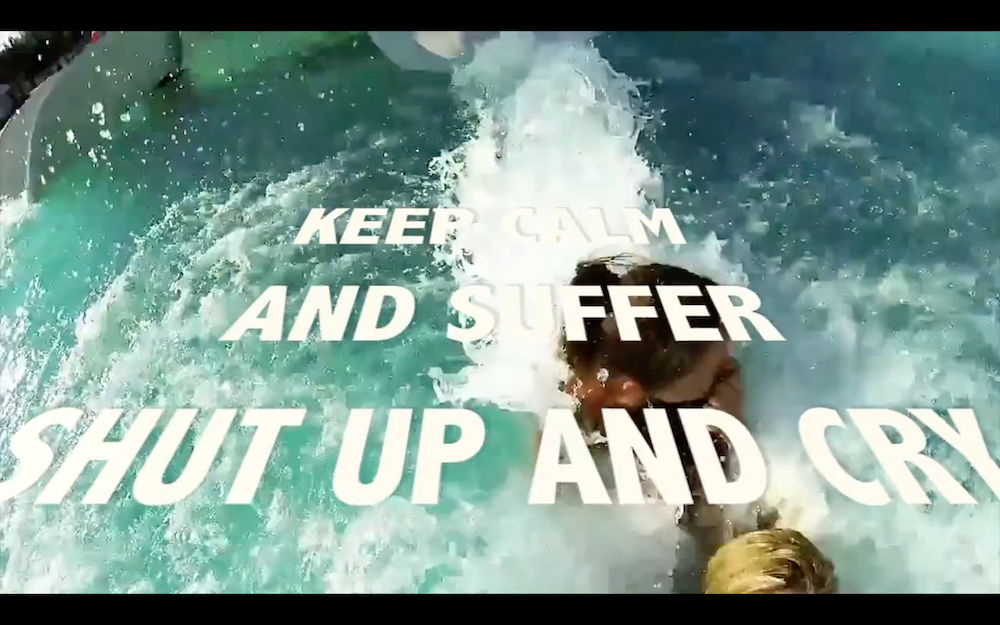 Jennifer Chan (Austerity, 2016) uses footage found online to create heartfelt works about vulnerability that recenter the self as a series of performances in accordance with imagined ideals. Her work forces us to confront the cognitive dissonance of abstract economic systems which dictate personal possibilities.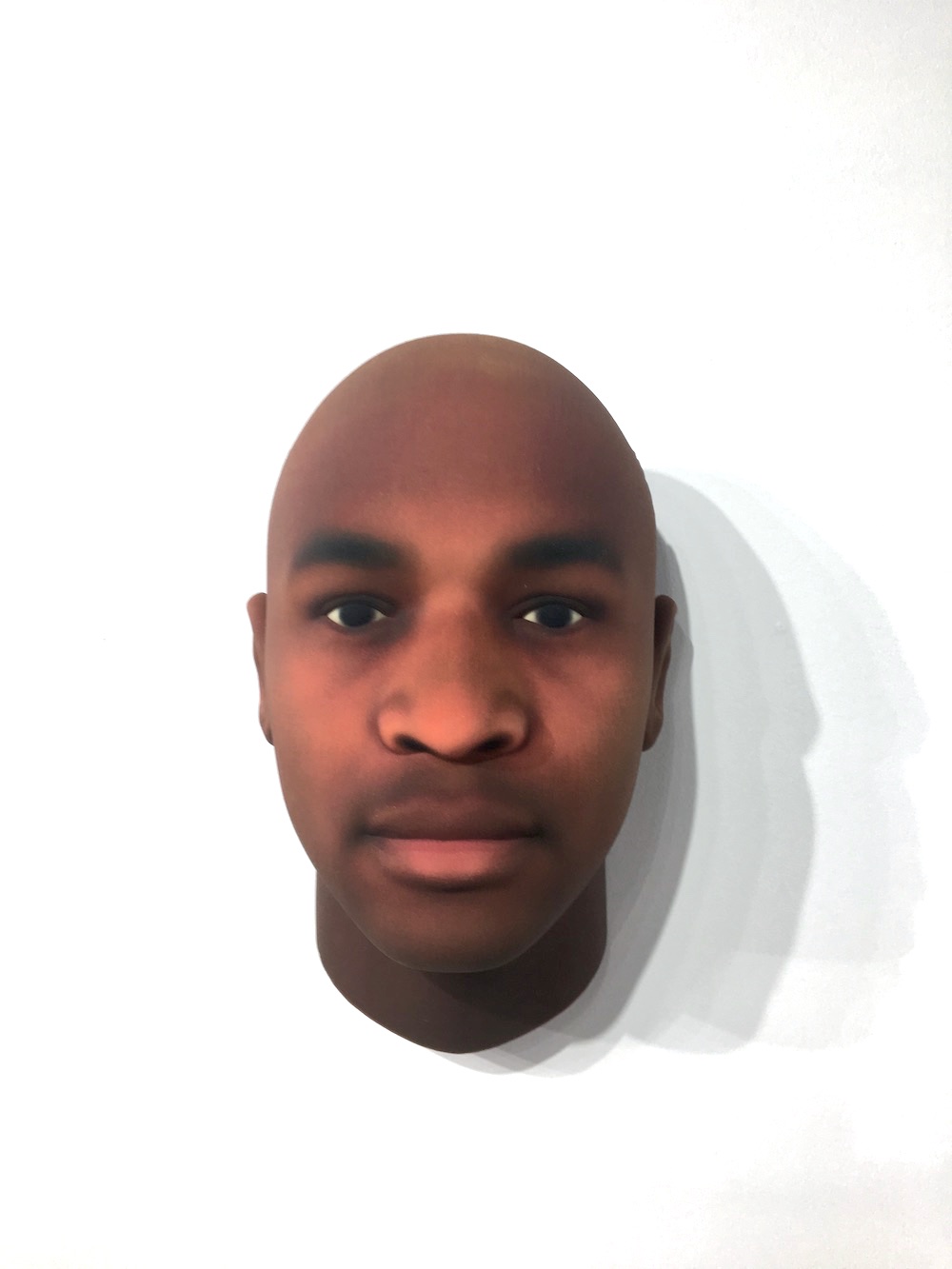 Heather Dewey-Hagborg (Stranger Visions, 2012-2013) uses genetic data to discover identities from the traces of our lives. The apparent lack of genetic privacy forces a reconsideration of the boundaries of self within a culture rapidly developing cheap, mass-produced genetic technologies as well as their integration into law enforcement and incarceration systems.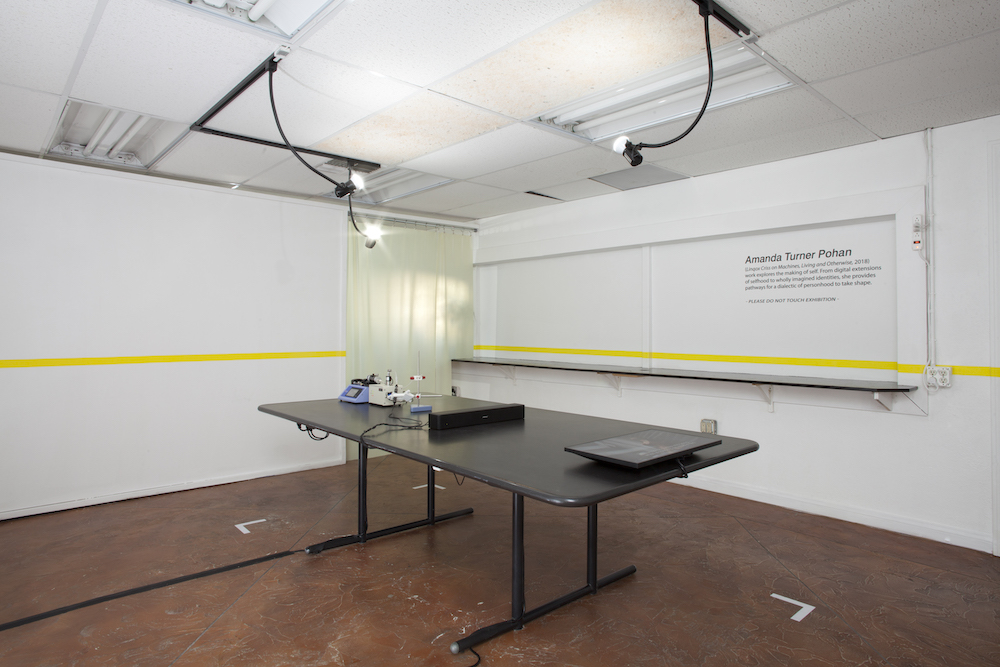 Amanda Turner Pohan's (Linqox Criss on Machines, Living and Otherwise, 2018) work explores the making of self. From digital extensions of selfhood to wholly imagined identities, she provides pathways for a dialectic of personhood to take shape.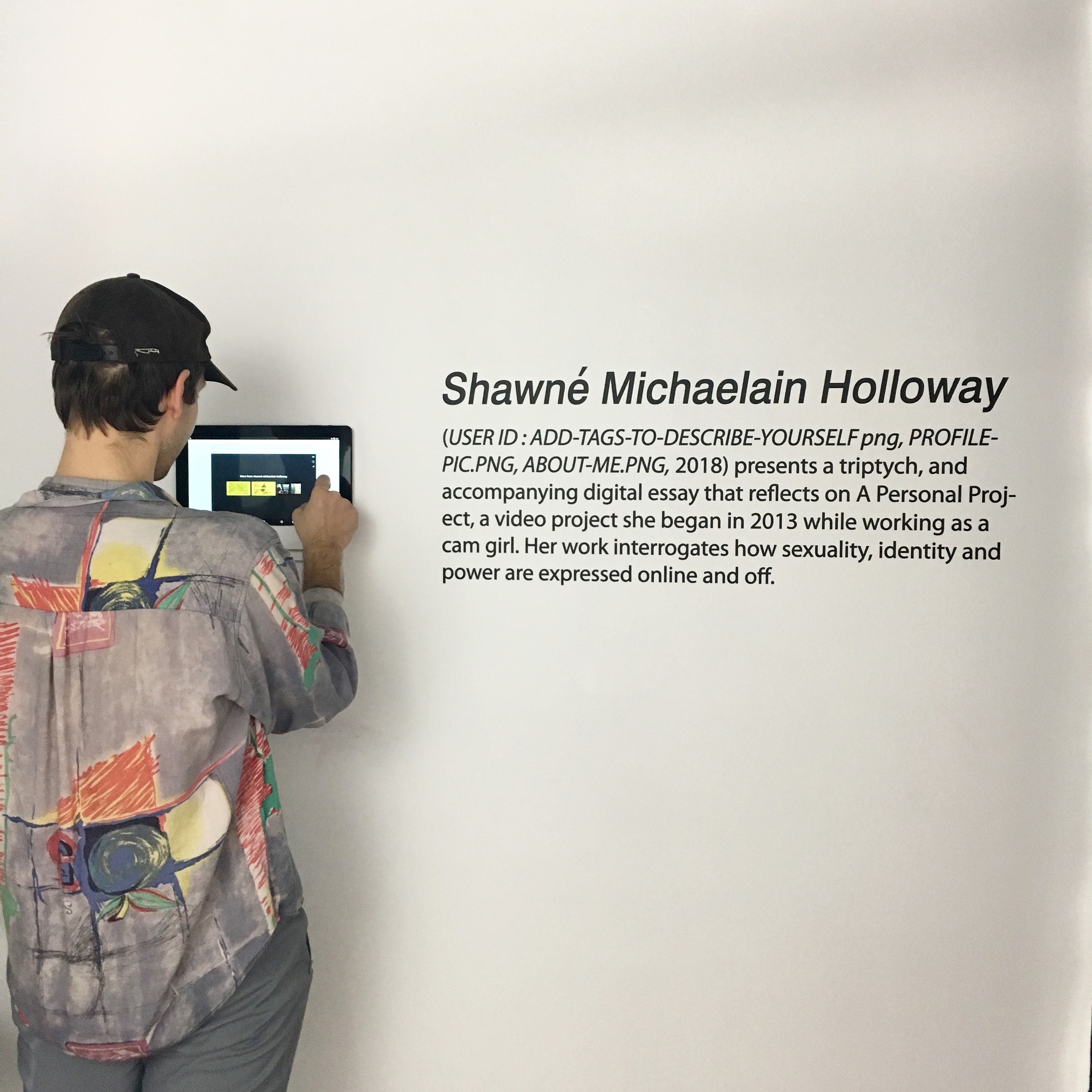 Shawné Michaelain Holloway (USER ID : ADD-TAGS-TO-DESCRIBE-YOURSELF.png, PROFILE-PIC.PNG, ABOUT-ME.PNG, 2018) presents a triptych, and accompanying digital essay that reflects on A Personal Project, a video project she began in 2013 while working as a cam girl. Her work interrogates how sexuality, identity and power are expressed online and off.
Art Fairs
SPRING/BREAK Art Show:

ArtSlant Prize IX: David Rios Ferreira, Sabato Visconti, Katya Grokhovsky, daaPo reo - 03/2018
Exhibition Catalogue

ArtSlant Prize 2016: Brigitta Varadi, Tiffany Smith, Sterling Crispin, Bex Ilsley, Jinhee Park - 03/2017
Download Catalogue
Art Marbella:

A Flanerie: Brett Day Windham - 07/2015
Aqua Art Fair:

ArtSlant Prize 2015: Theresa Ganz, Rachel Garrard, Tina Tahir, Bryan Volta - 12/2015
Download Catalogue

ArtSlant Prize 2014: Edra Soto, Adam Douglas Thompson, Anastasia Samoylova, Oren Pinhassi - 12/2014
Download Catalogue

ArtSlant Prize 2013: Robin Kang, Maureen Meyer, Alison Pilkington, Alexis Courtney - 12/2013
Download Catalogue

ArtSlant Prize 2012: Veronica Bruce, Steven Vasquez Lopez, Susan Meyer, Tomothy Gaewsky - 12/2012
EXPO Chicago:

Curator's Open: Cryptographics, Curated by Manus Groenen - 09/2014
Cutlog NY:

Rah Eleh, screening of Oreo, produced during the Georgia Fee Artist/Writer Residecy - 05/2014
ArtPadSF:

Error 415 New Media Award Exhibition - 05/2013
Alt Spaces:
ArtSlant Exhibitions - pop-up exhibitions in partnership with Chicago Loop Alliance
Edra Soto, 02/2015
Adam Douglas Thompson, Loose Ends 08/2014
Bryan Volta, Masculine Mythologies 06/2014
Paige Mostowy, 05/2014
Emily Hermant, 12/2013
Nick Vaughn and Jake Margolin, Selected Works, 10/2013
Jung Ji Lee, 09/2013
Alex Devereux, Urban Landscapes, 08/2013
K.A. Letts, New Paintings by K.A. Letts, 06/2013
Jerry Shevick, 04/2013
---
---
---
---
<!anchor tag #interviews>
---
---
---
---
Process Park v.1: April 1-30, 2018
"Plans are not made with clear and prescribed end points. Plans are made for the journey, and decisions are made along the way." -Theresa Giorza, from the Preface.
Process Park focused on reinserting ourselves into the act of production, to interrupt the paradigm of contemporary alienation.
Communal consumption and response might be a good way to describe the rhythmic activity of Process Park. From the processing and consumption of good food to the processing and consumption of knowledge, we sought to reposition the activity of self in relation to the social as a responsive activity that resists the dominant modality of passive consumption.
What did this look like? We made food together. We ate together. We read together. We worked apart. The nightly communal dinner began each cycle.
See our first open call here to learn more about what we hoped to create.
We began with an educational format outlined by Keleketla Library in Johannesburg, South Africa to serve as a curricular taxonomy:
Space of Conversation

After dinner, while sitting around the table, the food in the pots having lost luster from surffeit, we read aloud 2-4 paragraph selections from theoretical texts, artist texts, poetry, etc. Shortness of length was key. Sometimes, we merely prompted verbally, i.e.: What is an object? Discussion would range from 1-2 hours and circle around the theme of the night.

Space of Consideration

Sleep + work.

Space of Implementation

The work day. Artists had all day in their studios to work on their proposed projects. At dinner that night we would ask how the previous night's discussion had entered into their work. If their thinking had evolved or migrated and in which directions.
Within this framework, we developed a thematic arc of readings to ground our experiences. They were as follows:
Experience > Space > Time > Place > Object > Relationship
Experience

John Dewey, Having an Experience, from Art as Experience (36, 37).

Experience occurs continuously, because the interaction of live creature and environing conditions is involved in the very process of living. Under conditions of resistance and conflict, aspects and elements of the self and the world that are implicated in this interaction qualify experience with emotions and ideas so that conscious intent emerges. Oftentimes, however, the experience had is inchoate. Things are experienced but not in such a way that they are composed into an experience. There is distraction and dispersion; what we observe and what we think, what we desire and what we get, are at odds with each other. We put our hands to the plow and turn back; we start and then we stop, not because the experience has reached the end for the sake of which it was initiated but because of extraneous interruptions or of inner lethargy.

Space

Michel de Certeau, The Practice of Everyday Life, p. 29-30

In spite of measures taken to repress or conceal it, la perruque (or its equivalent) is infiltrating itself everywhere and becoming more and more common. It is only one case among all the practices which introduce artistic tricks and competitions of accomplices into a system that reproduces and partitions through work or leisure. Sly as a fox and twice as quick: there are countless ways of "making do."

Time

Supplemental reading from AGAINST THE DAY (DIARIES), Yann Chateigné, which opens, "After having produced several fragments that I never had the possibility to assemble a form that would satisfy me, from aborted essays to book projects that never happened..."

The Third Cycle opens with a reflection by Yann on Robert Smithson and Spiral Jetty. The prompt is to get us thinking about process over time, thinking through time, art as a manifestation of thinking process, and the present or future audiences one might make work for.

Non-Place

On the non-urban as a non-place:

"To go "into the woods" is to enter both nightmare and wonderment, chaos and serenity. The woods are the threatening realm of wolves and witches, yet also a space of peace and introspection. They confound and illuminate, disorient and clarify, endanger and protect. The woods are where we "come to our senses," and where we embrace our wilder selves. They are a space of complex life forms and ecological destruction; of growth and decay; of fantasy and ritual; of secrets and control; of hiding and the hidden.

The woods are often framed as a nonurban place; an entity separate from, and opposed to, the city—even the world; an eternal refuge that can smoothly be entered and exited, gone into and back out of. But how much of our woods still remains to go into—and on what terms?

As designers, we encounter the woods as building site, as obstacle, and as resource—territory to be cleared, but also to be preserved, cultivated, tamed, or simulated. Wood itself—along with its products like lumber, wood pulp, silvichemicals, and charcoal—fuel the building industry and feed architecture. In a period of accelerated climate change, the planet's woods are disappearing, burning up, threatening and threatened by human existence. How can we holistically address the woods and its ecosystems, and the life and life-giving power they contain?"

http://www.gsd.harvard.edu/publication/into-the-woods/

Object

What does an object mean to you?

This was our only free-form cycle led by the participants. Each participant explained how they related to objects, how objects determined the places they were in and how they came to make objects as markers of subjective presence.

Relationship

What is a relationship? Is a relationship an object or does its constant state of interdependent flux make it something entirely different? How do we speak of relationships as if they are stable objects?

Me <=> Object

Me <=> You

Me <=> Other

Me <=> Group

Me <=> Society

Grammar presupposes the kinds of relationships we can have (in the above incomplete list one gets a sense of the overlap between relational scenarios and declensions). Each connotes qualities and boundaries of relation. Relationships of course go two ways. They are dialectical in that the forces of their interaction are mutually affective. As one engages with an other, the other engages with you.

How do you think about your interactions with people on these different levels? Is it reactive? Proactive? How do you change given the scenario of interaction, the object with which you interact? What is the art of experiencing an other, experiencing with another?

Relational aesthetics is described by Nicolas Bourriaud as "a set of artistic practices which take as their theoretical and practical point of departure the whole of human relations and their social context, rather than an independent and private space." Since it's acknowledgement as a mode of practice in contemporary art, it has been excessively dragged.

Why is this? What do you think about relational aesthetics?

An artist residency is fundamentally a social experiment. Even a co-living arrangement is a social experiment. Negotiating needs, desires, boundaries with roommates, creating place together, thinking together, relaxing together, working together - all these relational aspects can be and are subject to artistic intervention.

Labor:

What does it mean to work with someone? What is the value of co-labor given that much of artistic activity is a solitary one? How can art reflect on exploitative and extractive labor? What does labor for the sake of a small community give us? For the sake of a large community?
View the github where we stored notes on process, our readings, and documentation of the residency.
Exhibition for v.1 is forthcoming.
---
---
---
---
<! catalogue piece for Doireann>

The Place of Gender in Technological Possibility, 2018 // Catalogue essay on filmmaker Doireann O'Malley's three-part series Prototypes on the occasion of her exhibition at Dublin City Gallery The Hugh Lane, 6/22/2018 - 9/16/2018. Published by Edith-Russ-Haus for Media Art and Sternberg Press.

Corita Kent: Transubstantial Matter, 2017 // Catalogue essay for Mass Appeal: The Art of Corita Kent at California Museum of Art Thousand Oaks.

Theorizing Visual Studies: Writing Through the Discipline // Ed. James Elkins, Kristi McGuire, Maureen Burns, Alicia Chester and Joel Kuennen. Editorial panel member and contributor, Routledge, 2012. // Contributed: Barthes on Bataille and Augé's Non-Place

Ben Seamons: Close and Deep Spaces, Fall 2012 // Catalogue essay for Afterimage at DePaul Art Museum, Chicago.

Light Farming / Heavy Gardening: Tending the Image, 2012 // Catalogue essay for the 2012 Yale MFA Exhibition.

Archi-Porn: Architecture and the Erotic, Ed. Steven Flemming, Flammarion, 2012. Contributed Constructing the Body in Pier Paolo Pasolini's Saló: 120 Days of Sodom

The Erotic in Context, Ed. Alhadeff, Garcia Sánchez, Kuennen. 2011 // Coeditor and contributor published by ID Press.

I in Space // Thesis for MAVCS degree at the School of the Art Institute of Chicago

The End of Modernity, the Birth of the Singularity // Paper and lecture given at Pumping Station: One in Chicago, IL - 2/23/2010

Dialectics of Desire and Revolution: Viénet's Girls of Kamaré // Lecture and Digital Video presentation of Detourning Viénet at The Erotic: 5 conference in Salzburg, Austria - 11/6/2009

Disruptions: The Political in Art Now Workshop // Workshop participant, presented by MCA Chicago and Open Practice Committee at the University of Chicago. Keynote speaker, Jacques Rancière - 10/24/2008

First Year Seminar Program - SAIC // Internet Society - a course I designed and taught for English, Liberal Arts to introduce freshman and sophomores to critical thinking and cultural analysis applied to the Internet // 09/03/2009 - 12/21/2009

Visual and Critical Studies BA Thesis Course TA with Dr. Karen Morris // 08/28/2008 - 12/15/2008, 01/23/2009 - 05/11/2009, 01/28/2010 - 05/16/2010

Sculpture: Basic Metalsmithing TA with Amy Butts // 01/04/2010 - 01/28/2010, 01/28/2010 - 05/16/2010

Sculpture: Basic Metalsmithing TA with Ronald Lancaster 01/28/2010 - 05/16/2010

Sculpture: Non-Ferrous Metals Fabrication TA with Amy Butts 01/04/2010 - 01/28/2010

Practicum - UW-L // Led a group of Juniors in considering what it takes to manufacture celebrity online. The outcome was entitled the Virtual Celebrity Project. // 01/2007 - 05/2007

Writing Tutor - UW-L // Student mentor and tutor for native and foreign students wishing to improve their English language writing skills. // 09/2006 - 05/2007
<!Exhibitions>
---
---
---
---
Translations and Transitions at Concertina Gallery, Chicago, 2010.
Digital video installation entitled Deconstructing/Reconstructing... - 04/24/2010 Exhibition 6.04092010 at Mvsevm, Chicago
Digital video installation entitled Pixels in Love - 04/09/2010 desiring ^ machines at i^3 Hypermedia Studio, Chicago
Enter Subject and Misanthropoid installations at i^3 Hypermedia Studio - 08/14/2009
<!Talks>
---
---
---
---

The 14th Factory, Simon Birch, artist and the creator of the 14th Factory, chats with Joel Kuennen of ArtSlant about the central themes behind the 14th Factory: Globalism, Collision & Crisis and Transformation, Los Angeles, Apr 26, 2017
---

Reality and Simulacrum - Perry Bard, Carla Gannis, Joel Kuennen, Jung Hee Mun and Jorge Zuzulich in conversation about video, virtual reality, augmented reality and the relationship between the body and technology. TransBorder Art TV, Episode 16, New York, Apr 8, 2017
---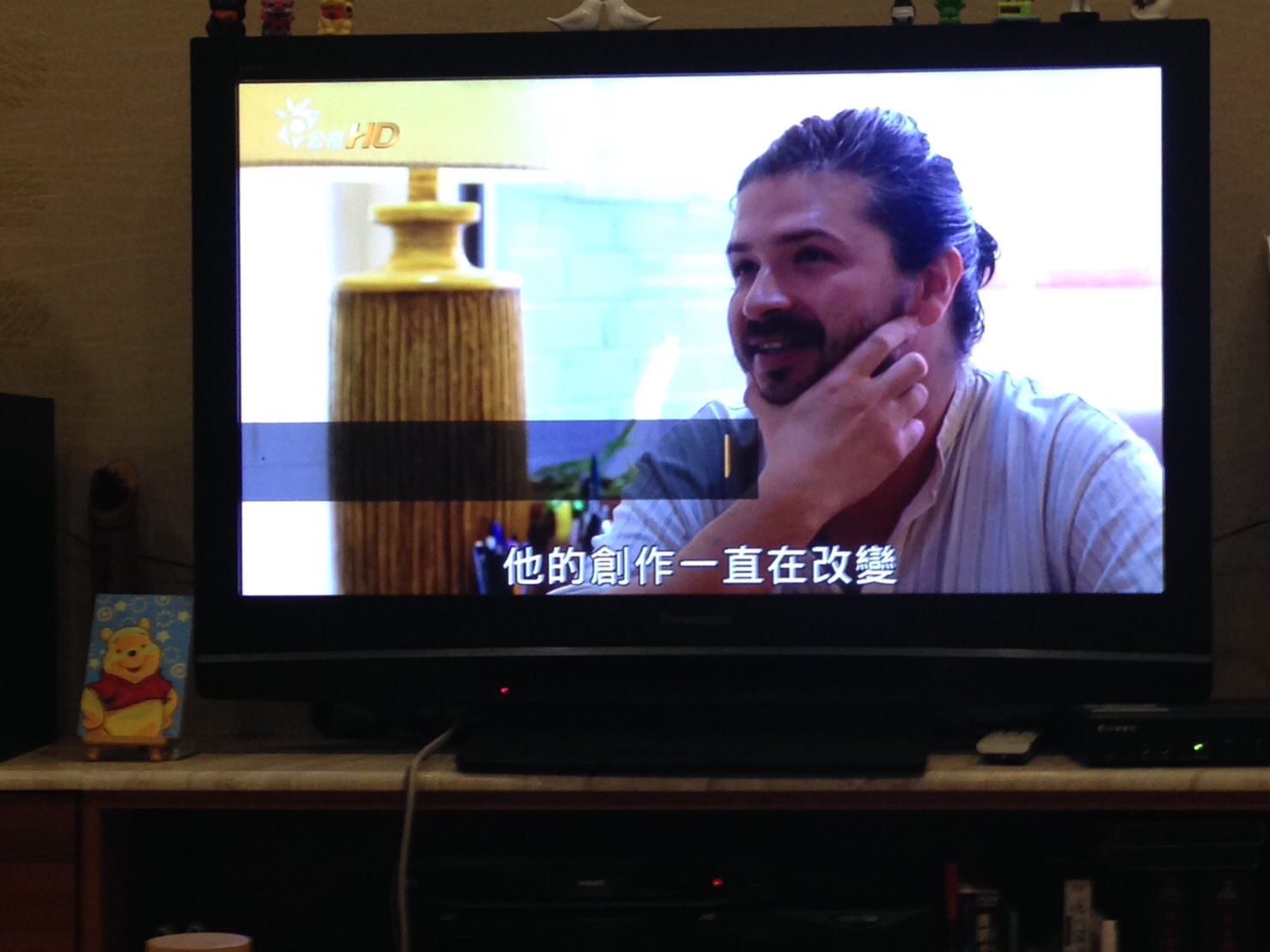 New Media Art Now - I gave a tour of Frieze New York to a Taiwanese filmcrew and spoke with artist Hao Ni about his work and the promises of new media art. Episode 7, Taipei, August 13, 2016
---
Art Fairs and Artists: How to Make it Work for YOU! Panel member with Frits Abell, Heather Darcy Bhandari, Eric Doeringer, and Omar Lopez-Chahoud. Organized by Artists Talk on Art, New York. November, 15, 2013
---

The Tumblr Arts Summit at ArtPadSF explored the way we share, create, and engage with art on the web. Seven leading art world professionals will discuss how their institutions, brands and associations have benefited from social media and the web, where and how they've found the most success, and the challenges presented with technologically engaging the art world. Panel: Ken Harman, James Salzmann, Jennifer Yin, Joel Kuennen, Kara Q. Smith, Liz Glass, Eric Dyer. San Francisco, May 17, 2013
---
PS:One Presents - A Guided Tour to the Technological Singularity - I gave a talk on the technological singularity and conceptions of time in Modern and Postmodern discourse at hacker space Pumpin Station: One, Chicago. February 18, 2010